Gates at Hyde Park Corner

Gates at Hyde Park Corner
Blast Cleaning for Steel Structures and Surfaces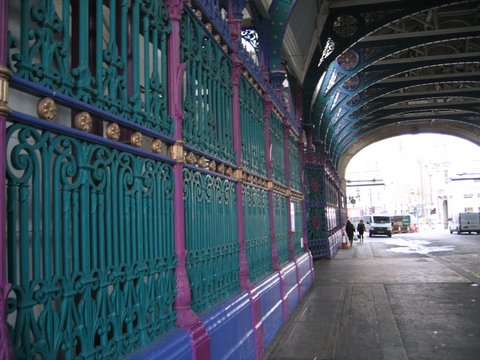 Blast cleaning can be used to remove paint or corrosion from a variety of steel surfaces. Ornate metal railings can be cleaned back ready to be re-painted. Blasting commonly cleans interior columns, which require preparation prior to fire proofing. The surface is ready for the specialist coating to be applied by the next trade.
We have worked on steel cleaning contracts at The National Gallery, The Savoy Theatre, The Gates at Hyde Park Corner and many other London landmarks. We have even cleaned cast iron lamposts in the Mall in prior to re-painting.
We can work to a commercial standard or to SAE 2.5 depending on the contract. We will blast clean back to white metal or simply flash over the surface to remove light rust.
Internal and external staircases including balustrades and fire escapes respond well to sandblasting, allowing years of accumulated paint to be removed to either leave as an aesthetic finish or re-coat.
The Savoy Theatre refurbishment work
The historic Savoy Theatre in London, suffered a serious fire in 1990. The Savoy originally opened in 1881 and is considered an architectural landmark. It seemed to many that it was unlikely ever to be restored and reopened in its old form, but this was magnificently achieved in summer 1993. When account is taken of the extent of the devastation caused, the restoration was a triumph. Blastit Ltd was contracted to clean the balustrade to the internal staircase. We were delighted to assist with this historic project.
Anti slip.
Blastit Limited blast cleaned, to provide an etch on the stainless steel drainage grills in Paternoster Square near St Paul's. The reason for this was to create less of a slip hazard for pedestrians.